Ahh holidays, how I love them. Not working suits me wayyyyy too well! I get to write and read and wear ugg boots all day, make as much coffee as I want and stay up late watching movies. Love it!
My favourite things for this week (aside from being on holidays):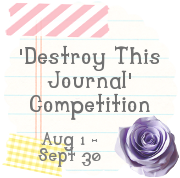 I've been thinking about going old school and busting open some journals lately and some of my favourite overseas bloggers seem to have had a similar idea! Kaitlyn from isavirtue, Kim from A Blackbird's Epiphany, and Shane from Whispering Sweet Nothings have put together a pretty awesome project for August and September where you pick up a journal, write in it, and then destroy it (creatively). I love it and can't wait to get started, check it out if this sounds like fun to you too!
I'm an out and proud hater of 3D movies, but I'm totally into the new 3D manicure. Cue Hello Darling Rock Candy and I'm in love. I want ALL THE FLAVOURS!!!
Studded shoes are here to stay, it would seem, with the release of Tony Bianco's new 'Anville' seen in my Facebook newsfeed today. It was just above a similarly studded flat from Betts. I think I'd probably kill myself wearing these, but they're hot all the same!
This made me laugh. I still do that sometimes…shut up…
Guess what I'm making for dessert on the weekend…yummmm
This is AMAZING.
Also, is this the greatest idea for storing make up EVER!? Brilliant.
Have the greatest weekend and get up to lots of awesome stuff!